Originally posted by Pura
Myu no Anyo Papa ni Ageru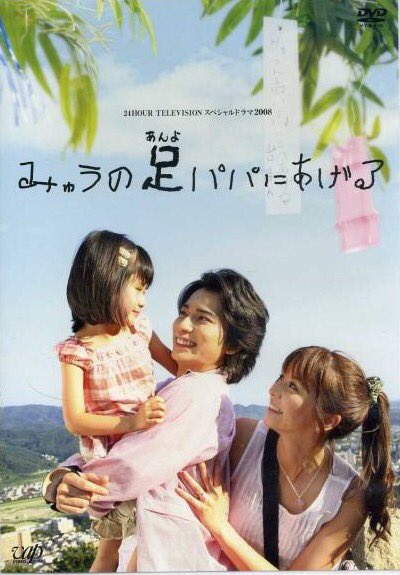 Broadcast network:
NTV
Broadcast date:
2008-Aug-30
Synopsis
The drama is based on a true story of
Yamaguchi Hayato (25) (MatsuJun)
, a young man who learns he has a rare illness known as CIDP, which affects the nervous system. He begins to lose the functioning of his limbs, but he is determined to fight the illness with the support of his wife and his 2-year-old daughter, Myu-chan.
This drama SP is from NTV's 24Hour Television.
Cast
Matsumoto Jun as Yamaguchi Hayato
Karina as Yamaguchi Aya
Hatakeyama Rina (畠山彩奈) as Yamaguchi Myu
Ishihara Yoshizumi as Iwade Taro
Masana Bokuzo as Takagi Shuya
Kasai Kenji as Yamaguchi Yasuyuki
Otsuka Yoshie (大塚良重) as Yamaguchi Nobuko
Morishita Tetsuo as Sakurai Yukio
Watanabe Eri as Sakurai Mihoko
Matsushige Yutaka as Kurose Kazuo
Yamazaki Hajime as Nagamachi Keigo
Chisun as Sato Mina
Nomi Tatsuya (能見達也)
Okubo Ayano (大久保綾乃)
Ko Yoshinori (康喜弼)
Terada Yuki (寺田有希)
Natsuaki Kayoko (夏秋佳代子)
Nakamura Machiko (中村真知子)
Fujiwara Toshiyuki (藤原寿之)
source:
Dramawiki