Beautiful World
Release date: 6 July 2011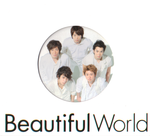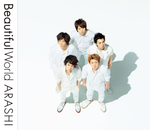 01. Rock this
02. まだ見ぬ世界へ  [Mada Minu Sekai e]
03. Lφve Rainbow
04. always
05.
Shake it !
06. 虹のカケラ ~no rain, no rainbow~ [Niji no Kakera ~no rain, no rainbow~]
07. Dear Snow
08.
Hung up on
09. Joy
10.
どこにでもある唄。[Doko ni demo Aru Uta.]
11. negai
12. Lotus
13.
「じゃなくて」 ["Janakute"]
14. morning light
15. To be free
16.
このままもっと [Kono mama Motto]
17. 果てない空  [Hatenai Sora]
18. 遠くまで [Tooku made]
This album had a special 7-11 edition released on 28 November 2011, and sold only through 7net. It contained 14 tracks from the original album and one additional track エナジーソング~絶好調超!!!!~ [Energy Song ~Zekkouchou Chou~], as well as a Beautiful World Tour face towel.